Since the link to the newspaper article is no longer available, we show here part of the winning application for the Bar Association of St. Louis'
2008 Inventor of the Year Award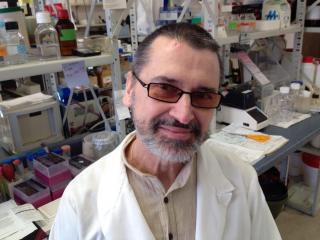 Name: Milko B. Kermekchiev, PhD
Residence: University City, MO
Employer Address:
DNA Polymerase Technology, Inc.
1508 South Grand Blvd.
St. Louis, MO 63104
Summary of Invention(s) in Laymen's Terms
Some 20 years ago, a groundbreaking process called the polymerase chain reaction (PCR) enhanced our ability to work with DNA in fields as diverse as identifying infections to determining suspects from crime scene samples.  The catalyst of the reaction is an enzyme called a DNA polymerase, originally isolated from a bacterium living in a hot spring in Yellowstone National Park.  The process does not always go smoothly due to two problems.  1) Some DNA genes in the sample, or contaminating the sample, can interfere with the assay and compete for the signal which is to be detected, and/or  2) some chemicals in the samples can interfere with (inhibit) the DNA polymerase so the reaction does not work at all..  These challenges can make PCR time consuming, expensive, or even preclude its use.
Dr. Kermekchiev's work has centered on these challenges, to improve PCR.  While conventional methods of solving the problems involved, with varying degrees of success, chemically modifying the enzyme or adding antibody  to the reaction, Dr. Kermekchiev sought to induce mutations to the naturally occurring enzyme.
PCR includes a series of heating and cooling steps ranging from hot-coffee temperature to near boiling.  Problem 1) can develop when the reaction starts too early (at room temperature) before an optimal temperature has been achieved.  These premature reactions can obscure the identification of the actual gene target.  Dr. Kermekchiev wondered whether a mutant of the enzyme could be found that only catalyzes at the hot temperature, providing an automatic "hot start".  He screened about 30,000 mutants of the enzyme and indeed, found several that a geneticist would call "cold-sensitive", even though they are just sensitive to room-temperature.
This led him to identify the locations in the structure of the enzyme that provided the desired cold-sensitive action.  He then optimized the enzyme at those locations to provide the best possible functionality.
Regarding problem 2) it is well-established that blood contains inhibitors to PCR, necessitating a process to remove the DNA from the blood before the reaction can begin.  The steps are  time-consuming, expensive, and can introduce contamination.  It was Dr. Kermekchiev's novel mutant approach that permitted him to develop a mutant that could successfully overcome the PCR inhibitors in blood, permitting PCR directly  on a small drop of whole blood.  This can save time and effort in situations ranging from a high tech lab to the field. 
List of Inventor's Relevant Patent(s) or Patent Application(s)
Barnes, W. and Kermekchiev, M. Cold-sensitive mutants of Taq DNA Polymerase. (US 6,214,557).
Barnes, W. and Kermekchiev, M.  Nucleic acids encoding for Cold-sensitive mutants of Taq DNA Polymerase (US 6,316,202)
Kermekchiev, M. and Barnes, W.  Use of whole blood in PCR reactions.  (US patent pending)
Kermekchiev, M. and Kirilova, L. Use of Taq polymerase mutant enzymes for DNA amplification in the presence of PCR inhibitors (US patent pending)
List of Inventor's Relevant Publications
Kermekchiev, M., Ivanova, L., (2001).  Ribin, a Protein Encoded by a Message Complementary to rRNA, Modulates Ribosomal Transcription and Cell Proliferation.  Mol. Cell Biol., 21, 8255-8263.
Kermekchiev, M., Tzekov, A. and Barnes, W. (2003). Cold-sensitive mutants of Taq DNA polymerase provide a hot start for PCR.  Nucleic Acids Res., 31, 6139-6147.
Describe the Importance of the Inventor's Work toHis/Her Employer,Business, or Licensee(s)(as applicable), to Metropolitan St. Louis,and to Society at Large
A prominent application of Dr. Kermekchiev's work is a hospital lab test for the detection of Group B Streptococcus (GBS) using PCR.  With greater sensitivity than previously used cultures, and a much faster protocol, his enzyme is the catalyst of the test that represents a breakthrough for the identification of GBS colonization, which can effectively result in the prevention and control of GBS infections in newborns.  GBS remains one of the leading causes of morbidity and mortality among newborns. In some populations, up to 40% of pregnant women are colonized.  One of every 20 babies infected with GBS die without timely treatment.
Dr. Kermekchiev has been the Chief Scientist of DNA Polymerase Technology, Inc. in St. Louis since 1999, and in that position has made presentations worldwide and been awarded numerous grants as principal investigator. 
Since DNA is a common factor in all life forms, his advances in working with DNA have had diverse applications. 
Dr. Kermekchiev's work has involved applications to basic DNA research at the National Institutes of Health and numerous universities around the world. 
As principal investigator for a grant sponsored by the U.S. Department of Agriculture, he is working  with the Danforth Plant Science Center on the detection of the DNA in crop-damaging nematodes, with applications for potatoes and other crops. 
The sensitivity of the enzymes and their ability to overcome inhibitors to PCR, particularly in blood, has led to the beginning of a collaboration with the Crime Laboratory Division of the Missouri State Highway Patrol.
Additional Information that Should be Considered
Dr. Kermekchiev has been the principal investigator on the following grants:
National Institute of General Medical Sciences, STTR Phase One
Cold-Sensitive Mutants of Taq DNA Polymerase
4/1/00 - 9/30/01
$154,502
National Institute of General Medical Sciences, SBIR Phase One
Toward a Heat-Labile Chelator for Hot-Start PCR
5/1/01 – 10/31/02
$107,856
National Institute of General Medical Sciences, SBIR Phase Two
Cold-Sensitive Mutants of Taq DNA Polymerase
8/1/02 - 7/31/05
$689,155
National Institute of General Medical Sciences, SBIR Phase One
Blood Inhibition Resistant Mutants of Taq DNA Polymerase
3/8/05 – 3/6/06
$107,144
United States Department of Agriculture, SBIR Phase One
Soil Inhibition Resistant Mutants of Taq DNA Polymerase
5/1/05 – 6/30/06
$78,160
National Institute of General Medical Sciences, SBIR Phase Two
Blood Inhibition Resistant Mutants of Taq DNA Polymerase
3/7/06 – 3/6/08
$678,280
United States Department of Agriculture, SBIR Phase Two
Soil Inhibition Resistant Mutants of Taq DNA Polymerase
9/15/06 – 9/14/08
$290,400